The accounting profit before tax of an entity was $243,200 for the year ended 31 July 20X4.
The accounting profit included disallowable income from government grants of $48,000 and disallowable expenditure of $25,600 on entertaining expenses.
The entity also paid a $40,000 dividend to shareholders. The tax rates for the country were as follows: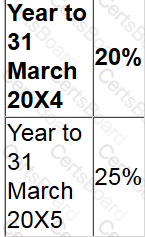 Calculate the tax the entity is due to pay for the year ending 31 July 20X4.