JDM is considering whether to go ahead with the launch of a new product. Profit from the new product is dependent on the level of demand.
The following table shows the estimated profits and their respective probabilities at different levels of demand.
The company could still cancel the launch of the product but would incur a cost of $7,000.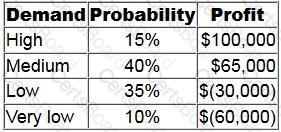 What is the maximum amount that the company should pay for perfect information about demand for the product?