A major company sells a range of electrical, clothing and homeware products through a chain of department stores. The main administration functions are provided from the company's head office.  Each department store has its own warehouse which receives goods that are delivered from a central distribution center.
The company currently measures profitability by product group for each store using an absorption costing system. All overhead costs are charged to product groups based on sales revenue. Overhead costs account for approximately one-third of total costs and the directors are concerned about the arbitrary nature of the current method used to charge these costs to product groups.
A consultant has been appointed to analyses the activities that are undertaken in the department stores and to establish an activity based costing system.
The consultant has identified the following data for the latest period for each of the product groups for the X Town store: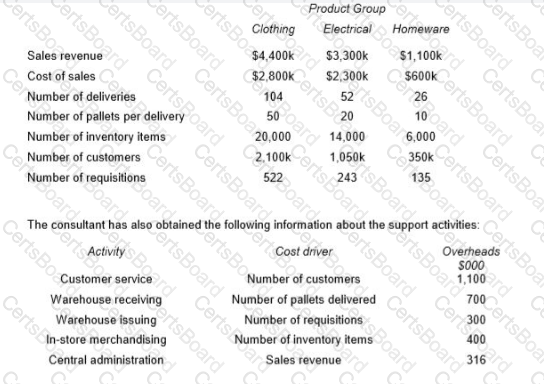 Calculate the total profit for each of the product groups:
…. using the current absorption costing system;