A company makes and sells three products A, B and C. The products are sold in the ratio of A:B:C = 1:1:4.
Monthly fixed costs are $150,000. Product details are shown below: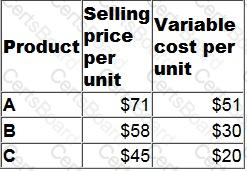 What sales value of product C is required to achieve a target profit of $72,000 next month?
Give your answer to the nearest whole $ (in '000s).